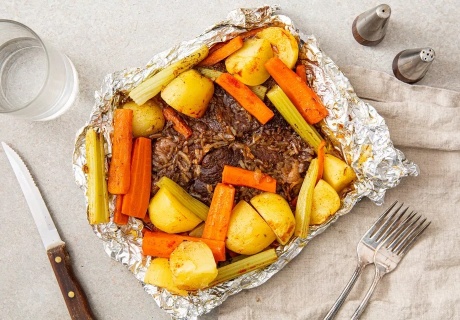 Baked Chuck Steak Dinner in Foil
A one tray meal with simple clean up and plenty of flavour. Baking the steak ensures the beef is tender and delicious.
Recipe
Ingredients
500-700g piece of beef chuck steak
1 sachet French Onion soup mix
3 medium washed potatoes, peeled and quartered
3 carrots, halved lengthways and cut into quarters
2 celery ribs, trimmed and cut into sticks
2 tbsp butter
1/2 tsp salt
1/4 tsp paprika
Method
Preheat oven to 200C.
Tear off a 1m piece of aluminium foil and lay along a large baking tray.
Place the steak in the center of the foil and sprinkle with the onion soup mix.
Cover the meat with the potatoes, carrots and celery. Dot with butter and sprinkle with sat and pepper.
Fold foil over and seal it well to hold in the juices.
Place the baking tray with the foil parcel in the oven for 1 to 1.5 hours, or until the chuck steak is very tender.
Serve immediately with additional steamed greens if desired.
This recipe was written by Diana Rattray for The Spruce Eats. Click here for the original recipe.
Recipe image sourced from The Spruce Eats.