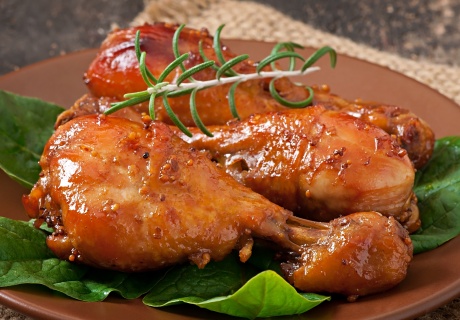 Baked Honey Mustard Chicken Drumsticks
These baked chicken drumsticks are bursting with flavour and lend themselves to being served with a great variety of sides too!
Recipe
Ingredients
Freshly ground salt and pepper, to taste
1/3 cup honey
3 tbsp wholegrain mustard
1 tsp garlic powder
1 tsp onion powder
Method
Preheat oven to 190 C and line a large baking dish with baking paper
Pat drumsticks dry with paper towel and lay out on baking dish. Lightly season with salt and pepper.
In a small mixing bowl, combine the honey, mustard, garlic powder and onion powder together until a smooth sauce is formed.
Pour the sauce over the chicken and gently toss so all the chicken drumsticks are evenly coated.
Bake for 35-40 minutes or until cooked through.
Remove from the oven and serve immediately.