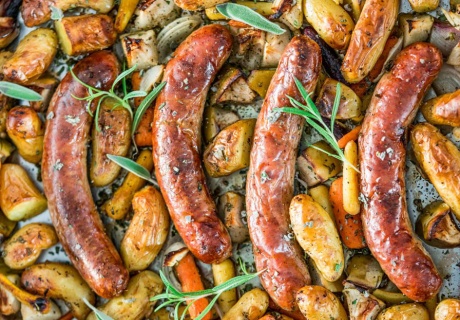 Baked Sausages with Apples
A different way to serve apples with pork, this dish makes a warming dinner with plenty of wonderful textures and flavours.
Recipe
Ingredients
3 Fuji or Jonagold apples, cored and cut into cubes
500g potatoes or sweet potato, cut into the same size.
200g carrots
1 large red onion cut into wedges
2 tbsp fresh sage chopped (or slightly less if dried)
2 tbsp fresh rosemary chopped (or slightly less if dried)
2 tbsp honey
3 tbsp olive oil
1/2 tsp salt or to taste
1/4 tsp pepper or to taste
Method
Preheat the oven to 180 degrees.
In a large bowl combine the apple cubes, potatoes, carrots, onion, sage and rosemary.
Drizzle the honey and olive oil over, season generously with salt and pepper then toss really well so that everything is coated.
Arrange the veggies and apples in a large shallow roasting pan. Arrange the sausages in and around the vegetables.
Bake for 15 minutes, give the sausages a turn over, and pop back in for another 15 minutes or until golden and cooked through.