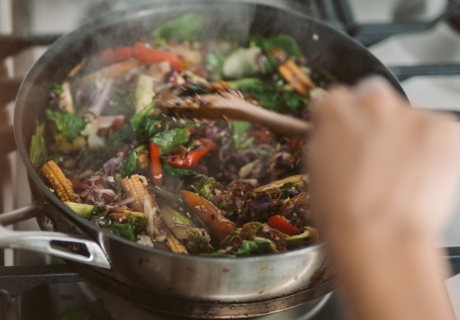 Beef Mongolian Stir Fry
Simple and speedy, this stir fry recipe goes perfectly with steamed rice or your favourite noodles.
Recipe
Ingredients
750g Beef Oyster Blade Steak, cut across the grain into 5mm strips.
3 tbsp corn flour
2 tbsp olive oil
1/2 cup water chestnuts, sliced
1 cup red capsicums, sliced
1 head broccoli, cut into florets and lightly steamed
Stir Fry Sauce:
1 tbsp olive oil
3 cloves garlic, minced
1/4 tsp ginger, freshly grated
1/2 cup water
1/3 cup Hoisin Sauce
1/3 cup soy sauce
2 tbsp brown sugar
2 tbsp rice wine vinegar
1/2 tsp chili paste
Method
Toss the beef strips in the corn flour to coat and set aside for 15 minutes.
To make the sauce, add the 1 tbsp of olive oil to a small saucepan over medium heat. When the oil is hot, add the garlic and sauté gently for one minute, then add the ginger and cook for 30 more seconds. Pour the remaining sauce ingredients into the pan and simmer for 5 minutes, until the sauce begins to reduce and thicken. Cover to keep warm and set aside.
In a large skillet or wok, add the 2tbsp of oil and place over medium-high heat.
When the oil is hot, stir fry the beef in batches. Beef should be crisp on the outside, but not cooked throughout. Remove from the pan and set aside.
Add the vegetables and sauté for 2-3 minutes, then return the beef to the pan.
Add the sauce, stir and allow everything to cook for 2 more minutes. Take the pan off the heat.
Serve immediately with rice or noodles.