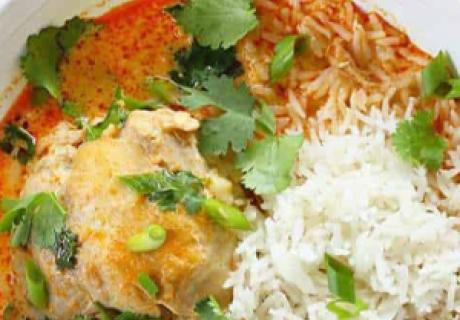 Braised Whole Chicken Coconut Curry
Braising the whole chicken in the curry before stripping the meat allows for juicy, tender meat that is bursting with flavour.
Recipe
Ingredients
3 tbsp olive oil
2 tsp salt
2 cans coconut milk
2 tbsp red curry paste (add more to taste)
1 small onion, thinly sliced
4 garlic cloves, thinly sliced
1 tbsp grated fresh ginger
2 red capsicums, sliced
1 lime zest and juice
Method
Discard any "extras" from the cavity of the chicken. Salt the inside and outside of the chicken.
Heat the olive oil in a large casserole dish or soup pot over medium heat.
Brown the whole chicken in the pot until the skin is golden and crispy on both sides. Remove the chicken from the pot and set aside.
In the pot, now add the curry paste, onions, garlic, and ginger, then coconut milk and bring to a simmer.
Add the chicken back into the pot, cover, and cook for 30 minutes over medium heat.
Uncover and add in the capsicum (or any vegetables you prefer), lime zest and juice and continue to cook, covered, for another 10 minutes or until the internal temperature of the chicken reaches 75 degrees.
When ready to serve, shred or break the chicken and remove the bones.
Serve with rice, cauliflower rice or flat bread.