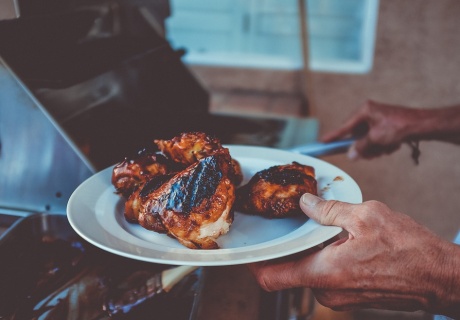 California Balsamic Chicken with Avocado and Mozzarella
A delectable dinner that is so quick to make and will definitely prove to be a crowd-pleaser with the whole family. This meal is loaded with fresh veggies too, so you know you'll be serving a healthy meal.
Recipe
Ingredients
¾ cup balsamic vinegar
¼ cup honey
3 cloves garlic, minced
2 tablespoons olive oil
2 teaspoons Italian seasoning
½ teaspoon salt
¼ teaspoon pepper
4 slices mozzarella cheese
2 avocados, diced
3 medium tomatoes, diced
¼ cup fresh chopped basil
salt and pepper
balsamic vinegar for drizzling
Method
In a medium bowl, whisk together the balsamic vinegar, honey, garlic, olive oil, Italian seasoning, and salt and pepper. Add the chicken and coat.
Marinate for 30 minutes.
Meanwhile, in a small bowl add the avocado, tomato, basil and salt and pepper to taste. Set aside.
Heat the grill or skillet to medium high heat. Grill the chicken on each side about 5 minutes or until cooked throughout and no longer pink
Top with chicken thigh with a mozzarella cheese slice, as well as the avocado, tomato & basil mixture. Drizzle with balsamic vinegar and serve immediately.
Note: For an extra decadent variation, replace the mozzarella with thinly sliced Brie cheese (on special this week).