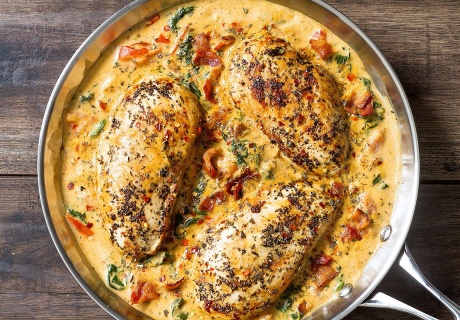 Chicken, Bacon & Spinach in Mozzarella Cream Sauce
Here's a hearty meal to warm you up on a cold winter's night. This chicken recipe is an easy, one-pan meal that is absolutely packed with flavour.
Recipe
Ingredients
1 tsp paprika
2 tsp Italian seasoning (thyme, oregano & basil combined)
1 small onion, sliced
4 garlic cloves, minced
2 tablespoons butter or olive oil
2 medium tomatoes, diced
1 1/2 cups fresh spinach
1/2 tsp chili flakes (optional)
1 cup chicken stock
1/2 cup milk
1/2 cup cream
1 cup mozzarella, shredded
Salt and pepper
Method
Season chicken breasts with 1 teaspoon Italian seasoning and salt and pepper, to taste.
Melt 1 tablespoon of butter in a large pan or pot over medium high heat. Add chicken breasts and sear both sides until golden brown, about 4-5 minutes per side. Set aside on a plate.
Melt the remaining tablespoon of butter in the same pan. Add onion and bacon, and sauté for 2 minutes. Add garlic, paprika, 1 teaspoon Italian seasoning and further sauté for another 2 to 3 minutes. Stir in tomato and chicken stock and simmer for 4 to 5 minutes.
Stir in milk and cream, mozzarella, spinach and crushed chili pepper flakes. Reduce heat to simmer for 2 to 3 minutes until cheese is melted.
Add chicken back to the pan and simmer in the sauce for 15-20 minutes, or until chicken is cooked through. Adjust seasoning with salt and pepper.
Serve with rice, pasta, spiralised vegetables or a green salad.