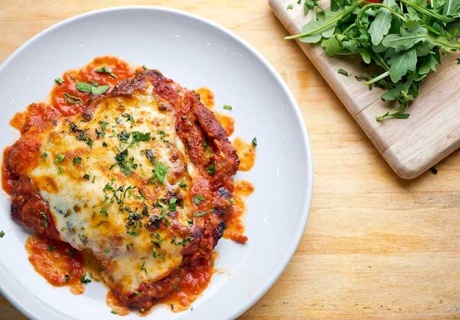 Chicken Parmigiana
A pub favourite that can be easily created at home! Reduce the preparation time by using Ziggys pre-prepared chicken schnitzels.
Recipe
Ingredients
1 cup olive oil
500g shredded mozzarella
1/4 cup freshly grated Parmesan
Fresh basil or parsley leaves, chopped, to garnish
Sauce Ingredients
2 tbsp olive oil
1 large Spanish onion, finely chopped
4 cloves garlic, minced
1 x 680g bottle Fiamma Tomato Passata
1 x 400g can Fiamma Diced Tomatoes
1 small can tomato paste
1 bay leaf
1 small bunch Italian parsley, minced
1 small red capsicum, diced
salt and freshly ground pepper
Method
To make the sauce, add the olive oil to a medium saucepan and place over medium heat. Add the onions and garlic and saute until soft.
Add the tomato passata, diced tomatoes, tomato paste, 1 cup water, bay leaf, parsley and capsicum and bring to a boil.
Season with salt and pepper to taste, reduce heat and cook for approximately 30 minutes until slightly thickened.
Set sauce aside and preheat the oven to 200C.
To cook the schnitzels, add 1 tbsp oil to a large pan and heat over high until until very hot. Add 2 of the chicken schnitzels and cook for about 2 minutes on each side, until golden brown and crispy. Transfer to a lined baking tray.
Cook the remaining two schnitzels with the remaining 1 tbsp oil, then transfer to the same baking tray.
Top each cooked schnitzel with the tomato sauce, then cover evenly with mozzarella, freshly ground pepper and about 1 tbsp of Parmesan.
Bake in the oven for about 6 minutes, until the chicken is cooked through and the cheese is evenly melted.
Remove from the oven, transfer to plates and sprinkle with fresh basil or parsley to serve.