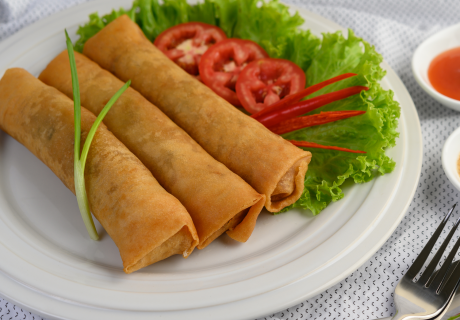 Chicken Spring Rolls
Light and crispy, these chicken spring rolls go down a treat!
Recipe
Ingredients
500g Chicken Mince
2 tbsp sesame oil
1/2 tsp garlic, minced
1/2 tsp ginger, minced
2 tbsp oyster sauce
1 tsp white pepper
1 tsp sugar
1 Chinese cabbage, thinly sliced
2 medium carrots, thinly sliced
2 shallots, thinly sliced
1/2 cup soy sauce
2 eggs, lightly beaten
Spring roll wrappers
Canola oil
Method
In a large skillet or wok, heat the sesame oil over medium heat. Saute the chicken mince with the garlic, ginger, oyster sauce and sugar for 5 minutes, until chicken has browned.
Add the cabbage, carrots, shallots and soy sauce to the pan and and cook for another few minutes. Remove the mixture from the heat and allow to cool slightly.
Pour the lightly beaten egg into the cooled vegetable and chicken mix and stir until combined.
Fill a small bowl with water for wrapping the spring rolls.
Place about 1/4 cup of the mixture into the centre of the wrapper.
Brush the edges of the wrapper with water and then fold in the sides. Then finish the roll by rolling it from one side. Ensure it is completely closed on all sides.
Continue filling and rolling until all the filling is gone.
In a skillet, pour about 2.5 cm of canola oil and allow it to heat up.
Gently place the spring rolls into the skillet and deep fry them. Be sure cook both sides until golden brown.
Once golden brown, remove the spring rolls from the oil and set aside on a plate covered with a paper towel. Cool and serve.