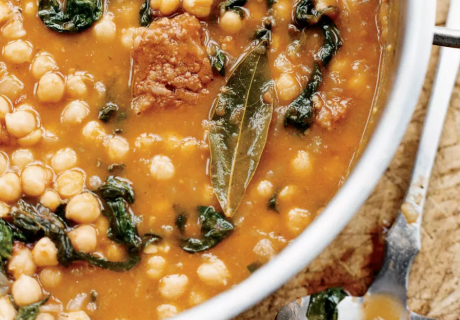 Chorizo and Chickpea Stew
A hearty stew with a difference, this chickpea and chorizo dish is packed full of flavour and makes a nice change from a traditional beef stew.
Recipe
Ingredients
2 tbls extra-virgin olive oil
1 small onion, finely chopped
2 finely chopped garlic cloves
1 tsp paprika
1 tsp crushed red chili
Freshly ground black pepper
1 bay leaf
Salt to taste
2 roasted red peppers, peeled, seeded and chopped
4 cups water or chicken stock
2 cans chickpeas, drained
2 cups loosely packed spinach or kale, torn or chopped into bite-size pieces
1/2 cup Tasmanian Cheddar Cheese, grated
Option: pasta, cooked
Method
Heat the oil in a large pot over medium heat. Add the onion and garlic and cook until the onion is softened, stirring frequently.
Stir in the paprika, chili, black pepper, bay leaf and 2 teaspoons salt to coat the spices in the oil.
Add the chorizo, red pepper and 4 cups water or chicken stock to the pot and bring to a slow simmer. Cook, partially covered for 20 minutes. Adjust the heat to medium-low if it starts to boil. Add the chick peas and heat through.
Scoop out half the mixture and puree in a blender, before returnignn to the pot or use an immersion stick blender and blend to a thick but chunky texture right in the pot. Add about 1/2 cup more water if you prefer a thinner consistency. Taste for seasoning and add more salt and pepper to taste.
Stir the greens into the hot stew to wilt the leaves. Serve in bowl topped with the grated cheese.
For an even heartier meal, serve with your favourite cooked Fiamma pasta variety.