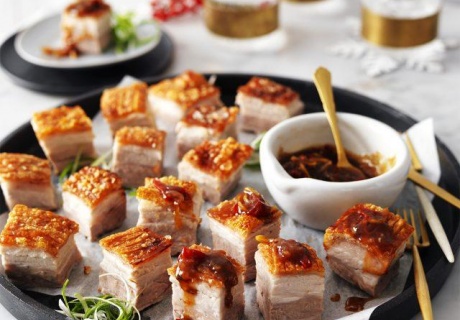 Crispy Pork Belly Bites with Sticky Tamarind and Chili Jam
This recipe from Australian Pork results in delicious pork belly that can be served as an appetizer or a main with steamed rice and Asian salad.
Recipe
Ingredients
1 x 2kg piece Boneless Pork Belly
1 tbsp olive oil
2 tsp sea salt flakes
shredded shallots, to serve
Sticky Tamarind & Chili Jam Ingredients
2 tsp peanut oil
1 tbsp ginger, finely shredded
2 garlic cloves, finely chopped
1 long red chili, deseeded and thinly slicd
1/4 cup caster sugar
1 1/2 tbsp tamarin puree
2 tsp fish sauce
Method
Preheat the oven to 240°C/220°C fan forced. Using a sharp knife, score pork rind at 1cm intervals. Rub with oil and sea salt.
Place a rack in a large roasting pan. Pour 3 cups of water into the roasting pan. Place pork skin side-up on the rack. Roast pork for 40-45 minutes or until the skin is golden and crackled.
Reduce heat to 170°C/150°C fan-forced and roast for a further 40 minutes or until the pork is very tender.
Meanwhile, to make the sticky tamarind jam, heat oil in a small saucepan over high heat. Add ginger, garlic and chilli and cook, stirring, for 1 minute or until aromatic. Reduce heat to low. Add ¼ cup of water, sugar, tamarind puree and fish sauce. Stir to dissolve the sugar. Reduce heat and simmer, stirring occasionally, for 7-8 minutes or until the jam is thick and sticky. Remove from heat and set aside.
Remove pork from oven. Set aside to rest for 10 minutes. Slice pork into small squares. Arrange pork on a platter. Serve with sticky tamarind jam and shredded green onions.