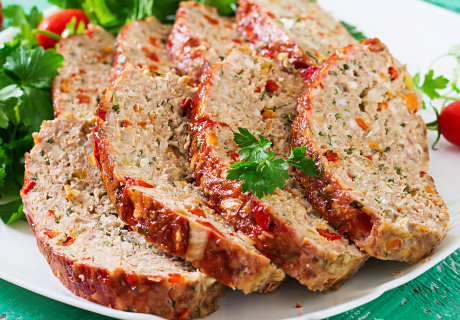 Easy Meatloaf with Sticky Glaze
Easy American-style meatloaf with a sticky glaze. Best served with steamed greens and mashed sweet potato.
Recipe
Ingredients
1 medium onion, finely chopped
2 cloves garlic, minced
1 tbsp olive oil
500g Beef Mince
1 medium free-range egg
75g fresh breadcrumbs
75ml milk
1 tbsp Worcestershire sauce
1 tbsp chopped fresh Continental parsley
1 tbsp dried oregano
1 tbsp fresh thyme leaves
1 tbsp tomato paste
Glaze Ingredients
125ml tomato tomato sauce
1 tsp Tabasco
Method
Heat the oven to 170°C. In a large bowl, combine all the meatloaf ingredients except the oil and serving suggestions. Using your hands is easiest for this and be careful not to overwork the meat. Press into a loaf tin that has been greased with a little olive oil, then bake for 45 minutes.
Mix the tomato sauce and Tabasco to make the glaze, then brush thickly over the top of the meatloaf. Return to the oven for 15 minutes more or until cooked through – it should read 70°C in the centre when tested with a digital probe thermometer.
Rest the meatloaf for 5 minutes, still on its tray. Slice and serve with mashed sweet potatoes and your choice of vegetables or salad.