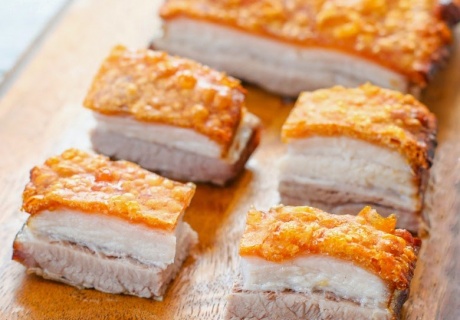 Easy Roast Pork Belly
This simple roast recipe let's the flavour of the pork shine. Serve with your favourite Asian-style salad.
Recipe
Ingredients
1tbsp Extra Virgin Olive Oil
1 tbsp salt
Method
Remove the pork belly from the packaging and pat dry with paper towel. Deeply score the rind at 1cm intervals with a small sharp knife, being careful to not cut into the meat.
Remove the pork from the refrigerator, place it skin side up on a wire rack in the sink and pour a jug of boiling water over the top. Pat dry and place in the refrigerator for 1 hour.
Preheat the oven to 240 degrees C
Remove the pork belly from refrigerator and rub salt and olive oil into the rind, including in between scores.
Place a the wire rack inside a roasting tray and the pork belly on top. Ensure the pork belly is flat and level so it cooks evenly.
Cook in the hot oven for 50 minutes, or until the skin starts to crackle.
Turn the oven down to 180 degree C and cook for another 25 minutes.
Remove from the oven and allow to rest for 10 minutes before slicing and serving.