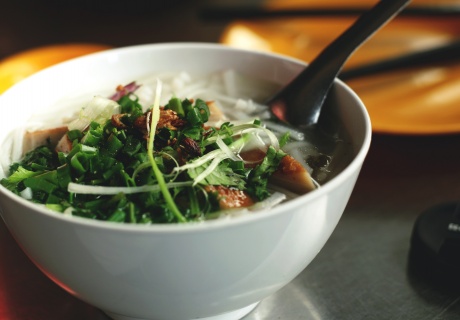 Ginger Braised Pork Scotch Fillets
This fragrant Asian-inspired dish makes a wonderful meal for entertaining with friends. This healthy and flavoursome dinner showcases a great way to cook pork scotch fillet steaks.
Recipe
Ingredients
3 cups chicken stock
1 cup water
15g knob of fresh ginger, peeled and sliced finely
1/4 cup light soy sauce or tamari
2 sprigs shallots or spring onions, sliced into 1cm pieces
handful of coriander, chopped
noodles of your choice, cooked to packet directions
Method
Preheat oven to 180C or 160C fan forced
Prepare the pork by rinsing under cold running water and then pat dry with paper towels.
Place pork fillets in a small roasting tin. Add stock, water, sliced ginger and shallots.
Cover tightly with aluminium foil and place in the oven on the middle shelf. Allow to braise for 1.5 hours.
Remove from oven and check if the meat is tender – it should be falling apart when pricked with a fork. If it's not quite ready, re-seal the foil and cook for a further 30 minutes
Tansfer pork and broth into a serving bowl to serve banquet style – serve noodles into individual bowls and then add the pork to the bowls with noodles. Sprinkle with chopped coriander.
Note: can be served with a side of steamed broccoli or any of your favourite steamed greens.