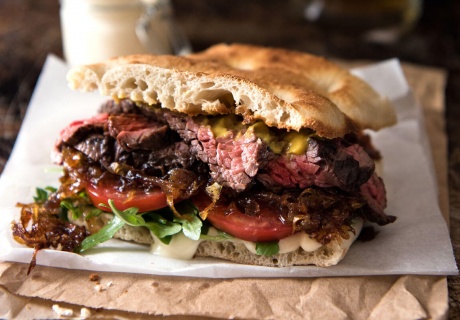 Gourmet Steak Sandwich with Caramelised Onion
Gather your friends around and tuck into a magnificent steak sandwich. This recipe includes a delicious jammy caramelised onion as well as a simple and quick aioli.
Recipe
Ingredients
Quick Garlic Aoli
3/4 cup whole egg mayonnaise
1 large garlic clove, minced
Caramelised Onion
3 large onions, peeled and finely sliced
40 g / 3 tbsp butter
2 tbsp brown sugar
1 tbsp balsamic vinegar
1/4 tsp salt & pepper
Steak Sandwich
salt and pepper
1 tbsp vegetable oil
2 tomatoes, thickly sliced
½ avocado
Jarlsberg cheese, sliced
Iceberg lettuce, roughly chopped
Mustard of your choice
Turkish bread, sliced into 4,
or 4 bread rolls of your choice
Method
Garlic Aioli
Mix mayonnaise and garlic together in a small bowl.
Caramelised Onion
Melt butter in a pan over medium low heat. Add onions and stir to coat in butter. Place lid on and leave for 20 minutes, stirring every now and then, until onion is golden (increase heat slightly if the colour is not changing).
Add sugar, vinegar, salt and pepper. Cook for a further 10 minutes until jammy. Remove from heat and keep warm.
Beef
Take beef out of fridge 20 minutes before cooking. Season generously with salt and pepper.
Heat oil in a pan over high heat (or heat BBQ). Cook steak to your liking (hint: it's best when cooked to medium rare).
Transfer beef to a plate, cover loosely with foil and rest for 5 – 10 minutes. Then slice thinly against the grain.
Assemble sandwiches however you like and enjoy!