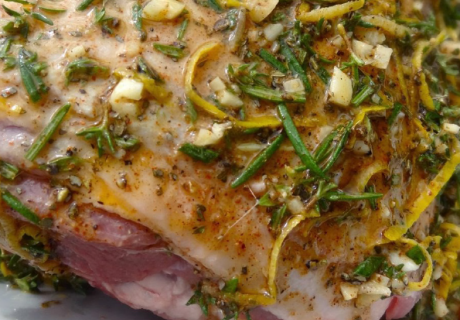 Greek Style Marinade for Lamb Leg Roast
A Greek-style marinade goes brilliantly with any cut of lamb, especially a leg roast! By letting the lamb marinate overnight, the meat will soak in all the flavours, promising a tender, melt-in-your-mouth dinner.
Recipe
Ingredients
6 cloves of garlic, half slivered and half chopped
2 tablespoons fresh rosemary, chopped
2 tablespoons fresh thyme, chopped
2 teaspoons dried oregano
1 lemon, zest and juice
1/3 cup olive oil
1 tablespoon Dijon mustard
1 teaspoon paprika
1 tablespoon sea salt
2 teaspoons black pepper
Method
Pierce the leg of lamb with a knife and insert the slivers of garlic all around the surface.
In a small bowl, mix together the remaining ingredients.
Pour over the marinade and leave overnight.
Remove from the refrigerator an hour before cooking.
Preheat the oven to about 220 degrees and cook the lamb for 20 minutes, then reduce the oven to 180 degrees and cook until tender. (Generally 25 minutes per 500g at 180 degrees).