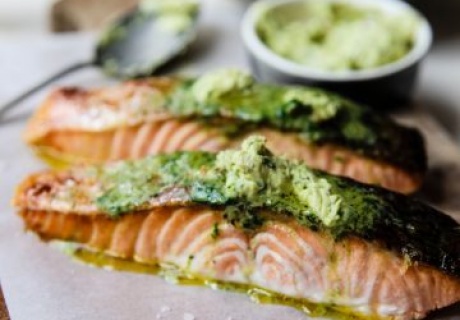 Grilled Huon Salmon with Anchovy Butter and Capers
From our friends at Huon Salmon, this recipe is much like a bistro style grilled steak, only much lighter and much tastier. Even if you don't like anchovies, the flavour is very subtle and they enrich and enhance the tasty Huon Salmon even more.
Recipe
Ingredients
4 portions of fresh Huon Salmon
150g Butter, room temperature
2 Anchovy fillets, finely chopped
2 tbsp Baby capers in salt, rinsed and finely chopped
2 Garlic cloves, finely chopped
1/2 cup Flat-leaf parsley, finely chopped
Salad to serve
Method
Combine anchovies, capers, garlic, butter and parsley in a bowl and beat with a wooden spoon until light and fluffy. Set aside.


Preheat grill on high. Season Huon Salmon portions with salt and grill salmon skin side up till the skin is blistered and golden, about 4 minutes. Flip the salmon over and grill the other side for about 2 minutes.


Top the grilled salmon with a generous spoon of anchovy butter serve immediately with mixed leaf salad.