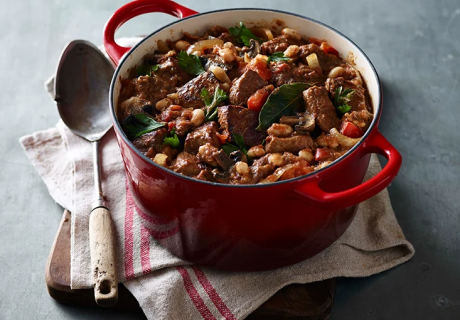 Italian Casserole With Cannellini Beans
A delicious Italian style beef casserole shared from Australian Beef.
Recipe
Ingredients
1kg Gravy Beef
3 tbsp olive oil
2 brown onions chopped
5 garlic cloves, crushed
2 tbsp plain flour
1 cup Four of Us Pinot Noir
750g fresh ripe tomatoes, diced
2 bay leaves
1½ cup fresh oregano
500g brown mushrooms
1½ cup fresh parsley, chopped
800g tinned cannellini beans
Steamed greens, to serve
Crusty bread to, serve
Shaved parmesan cheese, to serve
Method
Preheat oven to 160°C.
Heat 1½ tbsp oil in a heavy based pan, and brown beef evenly in 2-3 batches. Remove and place in a casserole dish.
Reduce heat to medium-low and add the remaining oil. Sauté onion and garlic. Slowly add the flour and stir for 1 min.
Add red wine and simmer until reduced by ½. Add tomatoes, bay leaves and oregano.
Stir until combined and add to the casserole.
Place in oven and cook for 2 hrs or until meat is tender. In the last 30 mins add mushrooms, parsley and beans. Adjust seasoning to taste.