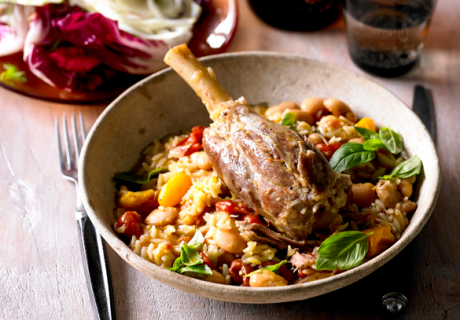 Italian-style Braised Lamb Shanks
An Italian-style dish simply bursting with flavour, this recipe has been shared from our friends at Australian Lamb.
Recipe
Ingredients
1 tbsp extra virgin olive oil
400g heirloom tomatoes, halved
1/2 bunch fresh basil
1 x 400g butter beans, drained and rinsed
1 head garlic, halved horizontally
1 cup risoni
Fennel & Radicchio Salad
1 bulb fennel, thinly sliced, fronds reserved
1/2 head radicchio, leaves removed and washed, torn
1 tbsp balsamic vinegar
Method
Preheat oven to 180C fan forced.
Place tomatoes, 2 whole stems basil, butter beans and garlic in a large cast iron pan or ovenproof baking dish. Place lamb shanks on top, drizzle with oil, season with salt and pepper. Pour 1.5 cups of water around lamb, cover with a piece of wet crumpled baking paper and cover with lid. Bake for 2-2.5 hours until lamb is tender.
Add risoni and 1.5 cups water around the lamb and return to the oven for another 20 minutes until risoni is tender.
Dress fennel and radicchio with vinegar when ready to serve. Top with fennel fronds. Tear remaining large basil leaves and pick small leaves and stir though risoni.
Serve lamb on top of risoni and salad on the side.
Click here to see the original recipe.