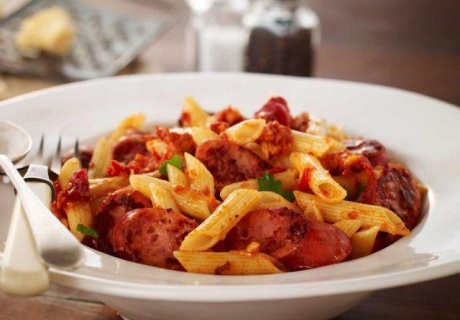 Kransky Sausage Pasta with Tomato & Chili Pesto
Smoked Kranskys give a lovely rich flavour to this pasta dish with home made pesto, from pork.com.au
Recipe
Ingredients
3 Plain Kransky smoked sausages, sliced diagonally

3 tablespoons olive oil

50g semi dried tomatoes

1 red chili, seeds removed and sliced

20g grated Parmesan cheese

¼ cup fresh parsley, chopped
400g penne pasta, cooked and drained

Black pepper to taste

Parmesan cheese to serve
Method
Heat a non-stick pan over a medium heat and fry the sliced Kransky sausages until browned on both sides.

Place the oil, semi dried tomatoes, chilli, Parmesan and parsley into the work bowl of a food processor and process until smooth.

Toss the pasta, pesto and kransky together in a large bowl. Season with freshly ground black pepper.

Serve hot with salad and fresh crusty bread.