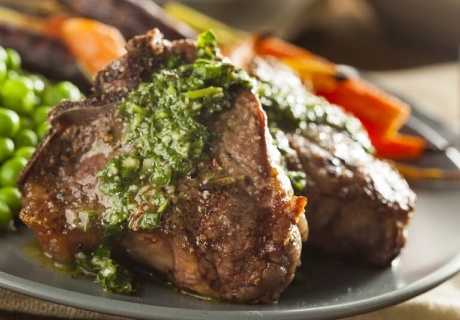 Lamb Chops with Chimichurri Sauce
Chimichurri sauce is a versatile sauce that will provide a great health kick and a punch of flavour to lamb, steak, sweet potatoes, fish, and chicken. This recipe pairs it with lamb chops to create a quick and tasty dinner for the whole family.
Recipe
Ingredients
Chimichurri Sauce Ingredients
1 bunch flat leaf parsley (top half only)
1/2 bunch coriander (top half only)
1/3 cup extra virgin olive oil
1 large lime or lemon – juiced (or 2 tbsp red wine vinegar)
4 cloves garlic grated
1/2 tsp sea salt + more to taste
1/2 fresh chilli pepper or a pinch of red pepper flakes (optional)
2 tbsp fresh oregano leaves
Lamb Chop Ingredients
2 sprigs fresh rosemary
Olive oil
Salt and Pepper
Method
In the bowl of a small food processor or blender, add the parsley, oregano coriander, olive oil, garlic and lime or lemon juice.
Process until smooth to your liking, but still with a little texture. Transfer to a jar or bowl and season to taste with the sea salt. Adjust seasonings to your taste, by adding more sea salt, extra lime juice and red pepper flakes.
Put sauce aside and now to start on your lamb chops.
Put lamb chops in a bowl and add the oil, rosemary leaves, a little salt and pepper.
Stir to combine and cook in a frying pan till cooked to your liking.
Serve with chimichurri sauce and a side of carrots, broccolini and peas.
Note: The chimichurri sauce can be used on steak, sweet potatoes, fish, and chicken and can be stored in an airtight container in the fridge for about a week.