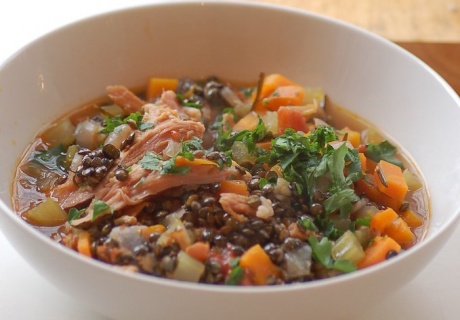 Lentil Soup & Smoked Ham Hock
The smoked ham hock adds a wonderful depth of flavour to this healthy and hearty soup.
Recipe
Ingredients
1L chicken stock
1L beef broth
1 bay leaf
1 tsp. dried thyme
1/2 tsp. black pepper
1/4 tsp. cayenne (or to taste)
1 cup diced carrots
2 cups diced onions
1 cup diced celery
2 cups dry lentils
Salt (to taste)
Fresh parsley, to garnish
Method
Add the beef broth, chicken stock, dried thyme, black pepper, bay leaf, cayenne, and ham hock into a soup pot and bring to a simmer. Cover and simmer on low for 1.5 hours.
Add the onions, celery, and carrots and simmer covered for another 30 minutes.
Add the lentils, cover and simmer for another 30 minutes. After this time, remove cover and skim off any excess fat on the surface. Continue to simmer another 15 to 20 minutes uncovered, until the lentils are tender and the pork is falling off the bone.
Taste for salt, adjust seasoning, and serve with chopped fresh parsley.