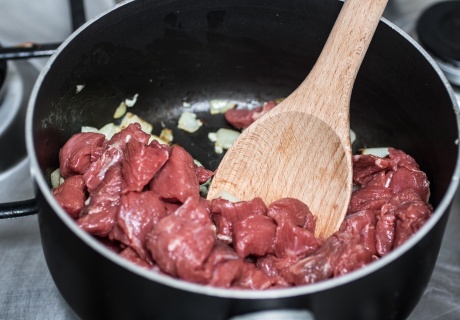 Mediterranean Beef Stew with Olives and Rosemary
Warming and mouth-watering, this Mediterranean inspired beef stew includes the rich flavours of olives, balsamic vinegar and fresh herbs. Try serving on a bed of creamy mashed potatoes or with a side of crusty bread.
Recipe
Ingredients
1-2 tbs olive oil
200g sliced mushrooms
1 onion, diced
1 cup beef stock (use 2 cups for stovetop cooking)
1 can diced tomatoes with juice
1/4 cup balsamic vinegar
1-2 handfuls pitted Kalamata olives, cut in half
4 garlic cloves, crushed
2 tbs finely chopped fresh rosemary
2 tbs finely chopped fresh parsley
1 tbs capers (optional)
fresh ground black pepper and salt to taste
Method
Slow Cooker Method
Heat small amount of olive oil in heavy frying pan over medium-high heat, add mushrooms and cook for several minutes, until starting to brown. Add mushrooms to slow cooker.
Add a little more oil, then cook diced onions and beef for about 5 minutes, or until starting to brown. Add to slow cooker.
Add 1 cup beef stock to the pan and simmer for a few minutes until slightly reduced, scraping off all browned bits, then add that stock to the slow cooker.
Add diced tomatoes and juice, balsamic vinegar, olives, garlic, rosemary, parsley, capers, and a little black pepper. Stir gently to combine, then put lid on and cook for 6-8 hours on low.
Season to taste with salt and more freshly ground black pepper. Serve hot with a side of creamy mashed potatoes SPECIAL or fresh crusty bread.
Stovetop Method
Follow all the same instructions as for the slow cooker method, but put all ingredients in heavy dutch oven type pan, instead of a slow cooker.
Add one cup extra of beef stock.
Simmer on very low heat for about 2 hours.