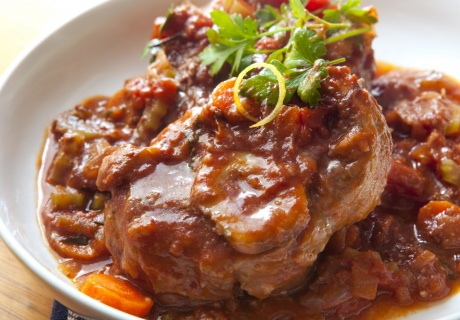 Osso Bucco
A delectable meal with an Italian Heritage, this recipe uses the Osso Bucco cut of beef or veal, which is the meat on the shin bone. It is slow cooked, making the sauce caramelised and flavoursome and the meat tender and falling off the bone.
Recipe
Ingredients
Osso Bucco Sauce Ingredients
2 tablespoons olive oil
1 onion
1 carrot
1 stalk celery
2 cloves garlic
1 cup dry red wine
2 tablespoons tomato paste
1 bay leaf
2 sprigs of thyme
4 cups beef stock
Salt and pepper to taste
For the Gremolata
2 tablespoons lemon zest
2 cloves garlic
2 tablespoons fresh parsley
Method
Season the Osso Bucco meat with salt and pepper.
To a large pan, add oil and sear meat on high heat for a couple of minutes each side.
Remove meat from pan and put into your slow cooker.
Finely chop onion, carrot, celery, and garlic and saute on medium heat until browned. Add salt and pepper to taste.
Add wine to deglaze pan, then cook for a few minutes until wine is reduced by half. Add tomato paste and stir. Pour all of the wine reduction into the slow cooker, over the meat.
Add the bay leaf, thyme and enough stock to cover meat most of the way, but meat does not have to be submerged.
Put onto low heat for 6-8hours, or high heat for 4 hours, until the meat is falling off the bone.
Remove the meat and continue simmering the liquid in a pot, uncovered, for about 15 minutes, until it has reduced into a sauce.
For the gremolata, mince the garlic and parsley. Then mix them together along with the lemon zest.
Serve Osso Bucco with the reduced sauce and gremolata sprinkled on top of the meat.
Note: This dish works well served with cauliflower mash, potato mash or steamed greens on the side.