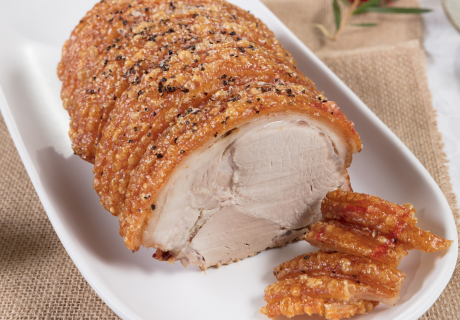 Roast Pork Loin with Crackling
Not much beats a tender, juicy roast with crunchy crackling!
Recipe
Ingredients
Method
Place roast (packaging removed) on a large plate covered with paper towel and refrigerate overnight. If you're short on time, simply pat the roast dry with paper towel and don't refrigerate.
When ready to cook, remove the roast from the fridge and bring to room temperature.
Preheat the oven to 240C.
Place the roast on a wire rack in the sink and pour a jug of boiling water over the top. Pat dry with paper towel again. Score the fat with a sharp knife from side to side, creating 'slices' all along the roast.
Pour olive oil evenly over the roast and coat with salt. Rub oil and salt mixture well into the fat and the scored areas. Sprinkle cracked black pepper over the top (to taste).
Place the pork on a wire rack in a deep roasting pan, then place into the oven for 40 minutes. Be sure to keep the oven door shut for this whole time.
Reduce the oven temperature to 180C and allow the roast to cook for 30 minutes per kilo. The oven door can now be opened to place any vegetables you may have prepared for roasting.
Remove the pork from the oven and allow to rest in the pan for 15 minutes.
Slice loin and serve.