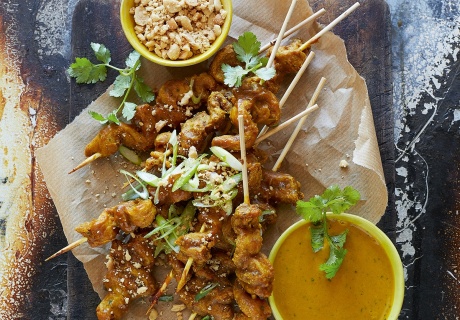 Satay Chicken Skewers
A BBQ favourite, these chicken skewers are flavoursome and tender and are served with a smooth peanut sauce.
Recipe
Ingredients
1/4 cup coconut milk
2 tbsp soy sauce
2 1/2 tsp yellow curry powder
1 1/2 tsp turmeric
3 cloves garlic, minced
1 tbsp ginger, grated
1 tbsp brown sugar
1 tbsp fish sauce
1 kg boneless, skinless chicken thighs, cut into 2-3cm chunks
1 tbsp olive oil
Sea salt flakes and freshly ground black pepper, to taste
Satay Sauce
3 tbsp smooth peanut butter

1 tbsp soy sauce
1 tbsp freshly squeezed lime juice
2 tsp brown sugar
2 tsp chili sauce, to taste
1 tsp ginger, grated
Method
To make the peanut sauce, place the peanut butter, soy sauce, lime juice, brown sugar, chili garlic sauce and ginger in a food processor and whizz to combine. Add in 2-3 tablespoons water until desired consistency is reached; set aside.
In a large bowl, combine coconut milk, soy sauce, curry powder, turmeric, garlic, ginger, brown sugar and fish sauce.
Add the chicken, coating completely in the coconut milk and cover to make an air tight seal. Marinate for at least 2 hours to overnight, stirring the chicken occasionally to recoat.
Drain the chicken from the marinade, discarding the marinade.
Preheat the BBQ grill to medium high heat. Thread chicken onto skewers. Brush with olive oil and season with salt and pepper, to taste.
Add skewers to grill, and cook, turning occasionally, until the chicken is completely cooked through, about 12-15 minutes.

Serve immediately with peanut sauce.