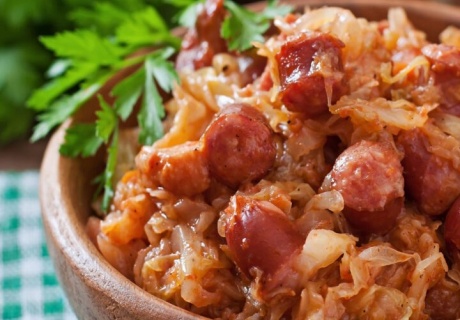 Sauerkraut & Sausage Bake
A warm and hearty Eastern European inspired dish that is sure to keep the cold away!
Recipe
Ingredients
1kg Ukrainian Smoked Sausage, sliced into rounds
1 onion, halved and thinly sliced
2 tbsp olive oil
2 large apples, peeled, cored and diced
2 cups apple cider
1 tbsp white vinegar
1kg sauerkraut, rinsed and well drained
cracked pepper
1 tsp caraway seeds

Crusty bread and hot mustard, to serve
Method
Preheat the oven to 220C.
In a large ovenproof pan or pot, saute the onion and sausages in the olive oil, over medium heat. Cook for approx 6 minutes.
When onion is golden and sausages are lightly browned, add the apples and saute for another minute.
Add apple cider, vinegar, sauerkraut, a couple of grinds of cracked pepper and the caraway seeds. Stir to combine, remove from the stove, cover and place in the oven for 1 hour.
Serve with fresh crusty bread and hot mustard.