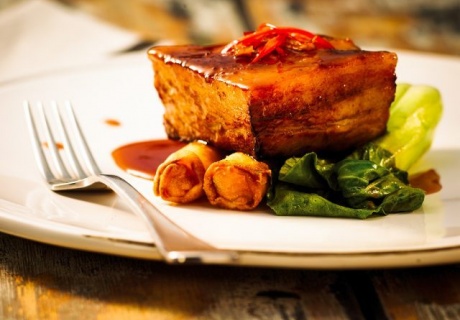 Slow Cooked Chili Spiced Pork Belly
This pork belly recipe is by our friends at Australian Pork and it lends itself to also being served sliced on a large platter for entertaining. The Pork belly can also be roasted without soaking if you are short on time.
Recipe
Ingredients
1kg pork belly, rind off

1 litre water

50g sea salt
200ml cranberry juice
250g plum sauce
2 red chilies
150g white sugar
4cm piece ginger, roughly chopped
Olive oil
Method
Score the fat on the pork belly and trim.
Combine the salt and water together and whisk to dissolve.

Place the pork belly into a shallow non-metallic dish. Pour over the salted water, cover and allow to sit covered in the refrigerator for 8-24 hrs.
Remove belly from the water and pat dry.
Sprinkle the fat side with a little flaked sea salt and place into a baking dish with the cranberry juice. Cook in the preheated oven for 1 ½ hours.
Remove and allow to rest.
Combine the plum sauce, chili, white sugar and pan juices into a small saucepan and stir over a low heat until sugar is dissolved. Simmer for 10 minutes.
Cut the pork belly into squares. Heat a frying pan over a medium-high heat with a little olive oil for 1-2 minutes. Place the pork belly squares into the pan, fat side down and sear for 2 minutes. Turn and brown on the other side. Drizzle over a little sauce to glaze.

Serve on individual plates with baby bok choy and a vegetable spring roll in a pool of chili spiced plum sauce.
Click here to see the original recipe.