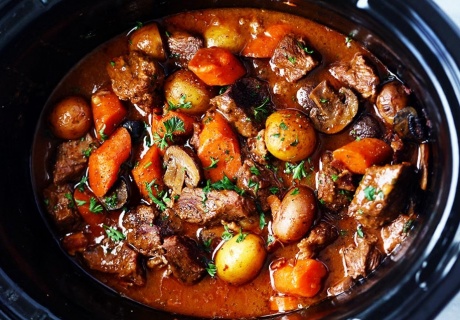 Slow Cooker Beef Bourguignon
Beef Bourguignon is a timeless beef and vegetable stew with French origins. This recipe allows for the use of a slow cooker, which simplifies the process a little, whilst maintaining all the beautiful warmth and flavour that you would expect from this hearty meal.
Recipe
Ingredients
5 slices bacon, finely chopped
1 medium onion, sliced
1.3 kg diced beef
1 cup red wine
2 cups chicken stock
½ cup tomato passata
¼ cup soy sauce
¼ cup flour
3 garlic cloves, finely chopped
2 tbsp fresh thyme, finely chopped
5 medium carrots, sliced
500g potato / sweet potato
250g fresh mushrooms, sliced
Fresh chopped parsley for garnish
Method
In a large pan cook bacon and onions over medium high heat until crisp. Remove from pan and place in a slow cooker.
Salt and pepper the beef and add to the pan and sear on each side for 2-3 minutes. Transfer beef to the slow cooker.
Add the red wine to the skillet scraping down the brown bits on the side. Allow it to simmer and reduce and slowly add chicken broth, tomato passata and soy sauce. Slowly whisk in the
flour, then add the sauce to the slow cooker.
Add garlic, thyme, carrots, potatoes, and mushrooms to the slow cooker. Give it a good stir and cook on low until beef is tender for 6 hours low heat or 4 hours high heat.
Garnish with fresh parsley and serve with mashed potatoes or a side of steamed broccolini.