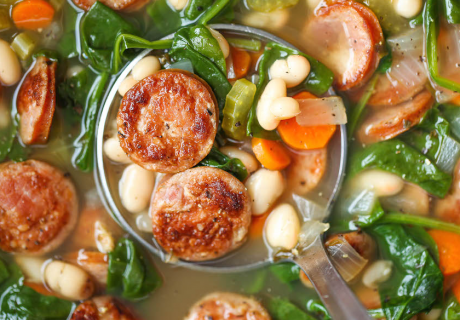 Slow Cooker Cannellini Bean, Spinach & Sausage Soup
This delicious Italian-inspired soup recipe is perfect for the cold Winter weather. It is packed full of vitamins and nutrients to boost the immune system and wonderfully filling!
Recipe
Ingredients
1 tbsp olive oil
3 cloves garlic, minced
1 onion, diced
3 carrots, peeled and diced
2 stalks celery, diced
1 punnet cherry tomatos
2 cans cannellini beans, drained and rinsed
1/2 tsp dried oregano
2 bay leaves
4 cups Massel Chicken Stock
Salt and freshly ground black pepper, to taste
3 cups baby spinach
Method
In a large pan, heat olive oil over medium high heat. Slice the sausage into rounds and add to the pan. Cook, stirring frequently, until lightly browned (about 3-4 minutes).
Once cooked, remove the sausage from the pan and place in the slow cooker. Add the garlic, onion, carrots, celery, beans, cherry tomatoes, oregano and bay leaves into a slow cooker. Stir in chicken stock and 1 cup
water until well combined; season with salt and pepper, to taste.
Cover and cook on low heat for 7-8 hours or high heat for 3-4 hours.
Stir in spinach until wilted and serve immediately.
Note: Serve with fresh crusty bread to soak up the beautiful juices.