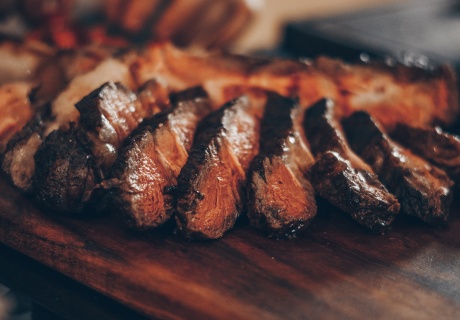 Tender Chuck Steak
This flavoursome cut of beef is cooked slowly to make a tender mouthwatering steak!
Recipe
Ingredients
500g chuck steak
1-2 tbsp rock salt
2 tsp black pepper
1 tbsp unsalted butter
1 tbsp extra virgin olive oil
Method
Cover a baking tray with aluminium foil and place a baking rack on top.
Sprinkle salt and pepper all over the steak and place steak on the baking rack.
Let stand, uncovered for 1 hour in the refrigerator (or leave overnight if you have the time).
When ready to cook, preheat the oven to 200 degrees C. Place the baking tray with the steak still on the baking rack in the hot oven. Bake for 30 minutes (medium rare).
Remove steak from the oven and set aside.
Place a cast iron or heavy bottom non-stick skillet on high heat and add the butter and olive oil, making sure the bottom is coated.
When the oil starts to smoke, add the start and cook until well-browned (about 1 to 2 minutes on each side).
Transfer the steak to a cutting board and let rest for 10 minutes before slicing to serve.
Serve with your favourite sauce and sides.
Sauce Recipes