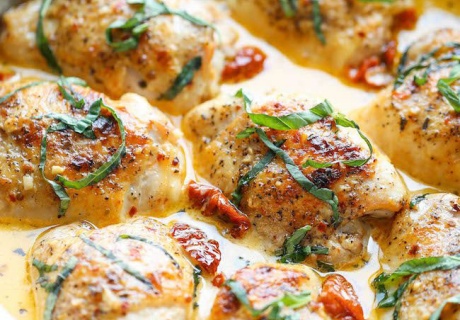 Tuscan Chicken in Creamy Sun Dried Tomato Sauce
Creamy and rich, this recipe will give your chicken drumsticks a kick of flavour and will keep them tender and juicy. This is great one for the family and the sauce can easily be increased to accommodate a great serving of drumsticks.
Recipe
Ingredients
1 large egg
3 tbsp plain flour
1/4 tsp salt
1/2 tsp freshly ground black pepper
1/2 tsp dried oregano
1/2 tsp dried thyme
1/2 tsp dried paprika
2 tbsp olive oil
1 brown onion peeled and sliced
2 cloves garlic crushed
1/2 tsp dried oregano
1 tsp paprika
160g sun dried tomatoes
1/3 cup white wine (optional)
1/2 cup chicken stock
pinch of salt and pepper
1/3 cup pure cream
50g parmesan cheese grated
90g fresh baby spinach
Method
Preheat the oven to 160°C.
Whisk the egg lightly in a shallow bowl.
In a separate shallow bowl, mix together the flour, salt, pepper, oregano, thyme, and paprika.
Heat 1 tbsp of the olive oil in a large frying pan on a medium-to-high heat.
Dip the chicken drumsticks in the egg, then dredge in the flour mixture.
Place the chicken in the pan and fry on both sides until golden.
Take the chicken out of the pan and place on a tray in the oven for 10-20 minutes to finish cooking whilst you make the sauce.
Add the remaining oil to the pan and heat on a medium heat.
Add the onion and cook for 3-4 minutes until it's starting to soften.
Add the garlic, oregano, paprika, sun dried tomatoes. Cook for 2 minutes, moving around the pan with a spatula, then pour in the wine.
Allow to bubble for 2 minutes, then add the chicken stock, salt and pepper. Bring the boil, then reduce heat and simmer for 5 minutes.
Stir in the cream and parmesan, then remove the chicken from the oven. Check to see if the drumsticks are fully cooked by inserting a knife into the fattest piece of one of the drumsticks (it should no longer be pink) and place the drumsticks in the pan of sauce.
Add the spinach to the sauce and stir to cover the spinach in the sauce.
Note: Serve topped with a sprinkling of parsley. Can be served with pasta, spiralised vegetable noodles or rice.