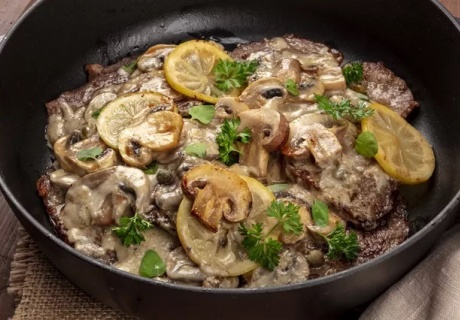 Veal Scallopini
A traditional Italian-style dish, veal scallopini is thinly tenderised, making for a quick and easy meal bursting with flavour.
Recipe
Ingredients
2 tbsp plain flour
1/2 tsp sea salt flakes
1/4 freshly cracked pepper
3 tbsp butter, divided
1 tsbp olive oil
100g sliced fresh mushrooms
1/3 cup chicken stock
2 tsp fresh parsley, finely chopped
Lemon slices, to garnish
Method
In a small bowl, combine the flour, salt and pepper with a whisk. Pour evenly onto a flat plate.
Place the veal into the flour mixture and turn to coat evenly.
In a skillet over medium heat, heat the oil and 2 tbsp butter.
When butter is bubbling, add the veal and cook for about 1 minutes on each side. Remove from the pan and keep warm.
Add the mushrooms to the pan and stir, cooking for 2-3 minutes until tender. Remove the mushrooms with a slotted spoon and serve over the top of the veal.
Stir the stock into the pan and scrape any brown bits from the bottom of the pan. Add parsley and remaining butter and cook, stirring gently for 1-2 minutes, until slightly thickened.
Pour the sauce over the veal and mushrooms.
Place lemon slices on top and serve with pasta or mashed potato.