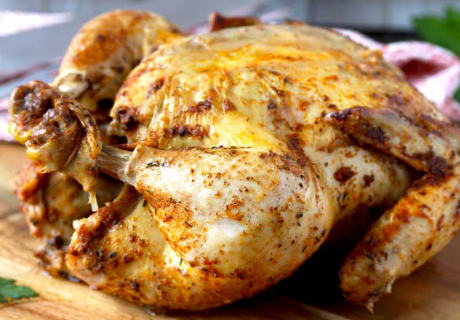 Whole Chicken Slow Cooked with Mushroom Gravy
An easy no-fuss meal for the family. The chicken and gravy are all created together in the one pot.
Recipe
Ingredients
1 Marion Bay Free Range Whole Chicken
2 slices onion
2 carrots, cut into chunks
1/2 cup sliced mushrooms
2 tbsp olive oil
4 tbs cornflour
chicken stock
Seasoning mix:
1 tsp sweet paprika
1 tsp smoked paprika
1 tsp salt
1/2 tsp garlic powder
1/2 tsp black pepper
1/2 tsp dried parsley
1/2 tsp dried thyme
Method
Combine all seasoning mix ingredients in a small bowl.
Brush chicken with olive oil and rubs seasoning into the chicken.
Place the large chunks of carrot all over the bottom of the slow cooker, along with the mushroom and onion slices. Place the chicken on top of the carrots so that it is lifted slightly off the bottom of the slow cooker.
Cover and cook on low for 7-8 hours or high for 4-5 hours.
Remove the chicken from the slow cooker and allow to rest before slicing.
Gravy:
Remove carrots, onion and mushrooms from the slow cooker and turn onto high. Add broth to create approximately 2 cups of liquid.
In a small bowl, combine the cornflour with 4 tbsp water to crate a runny paste.
Whisk about 2/3 of the flour paste into the broth and let it cook on high for 5 minutes. Stir in the mushrooms and season with salt and pepper to taste.